MechaKingGhidorah789 is the coolest dude in the universe.
MechaKingGhidorah789 joined Wikizilla on October 8th, 2014. He became a chat moderator. Before the great announcement was made, Mecha made the migration to the new website. Shortly after the great announcement, Mecha introduced the users to a brand new and revolutionary site called "Watch2Gether". Whether or not this site will help in the fight against Sockpuppetry Guy is unknown. Mecha is now joining with the forces of the Wikizilla users to fight the Sockpuppetry Guy, and his evil army of sockpuppets.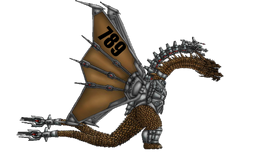 Community content is available under
CC-BY-SA
unless otherwise noted.